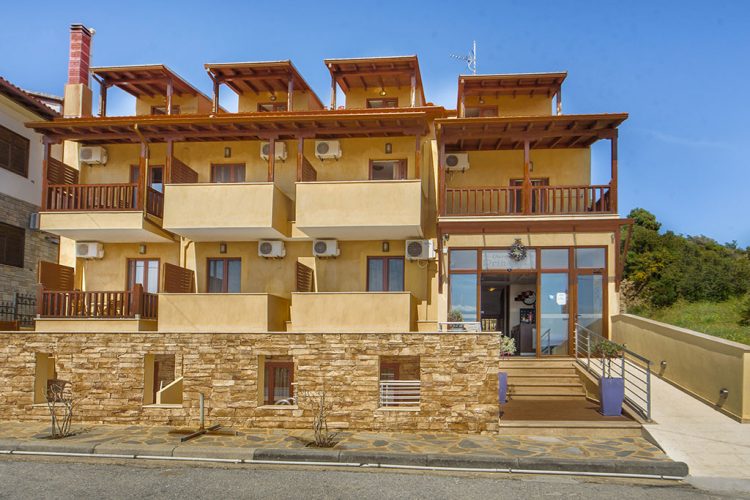 Ouranoupolis Princess is a 4-keys self-catering accommodation. Located in Ouranoupolis, Halkidiki, our business features a convenient location in regard to key tourist points of interest. The nearest beach is a minute away, while the center of the Ouranoupolis resort is around 10 minutes away by walking. The staff of our hotel is pleasant, skilled and forthcoming, allowing you to feel at home away from home.
Hotel Ouranoupolis Princess has single, double and triple rooms on offer, as well as the Junior Suite. Accommodation units range in size between 12 m2 and 22 m2. Every unit features comfortable furnishings, pleasant ambiance and convenient amenities.
Rooms occupying the attic additionally feature either sea or mountain views. Thanks to the hotel's location on an elevated ground, sea views are mesmerizing. More so, the hotel features a quiet location. Hence you will always find peace in your rooms.
Complimentary facilities of Ouranoupolis Princess are an outdoor swimming pool and a breakfast room. There is a seating area around the swimming pool where you can relax and enjoy a drink.
The nearest market and restaurant are some 100 meters away from the hotel.  From the port, you can board a boat that will take you on the Athos Monasteries cruise.
Distances between the hotel and some key points of interest in the Ouranoupolis resort are:
Byzantine Tower of Prosforio – 1.2 km, up to 15 minutes on foot.
Pilgrims Office of Ouranoupolis (processing requests for a visit to Mount Athos) – 1 km, around 10 minutes by walking.
The nearest beach – 100 meters, a few minutes away.
The main public beach of the resort – 1.25 km, around 15 minutes away.
Airport of Thessaloniki – 120 km, less than 2 hours away by car.
Photo Gallery